Sacramento Wedding Videography
Looking for complete coverage of your wedding day and not just a three minute highlight video? We pride ourselves on giving you full coverage of your wedding day, meaning you won't miss a moment of your big day! We are documentary videographers, which means we see our job as being your eyes and ears for the day; capturing everything so after the wedding you can sit down and experience your wedding from beginning to end.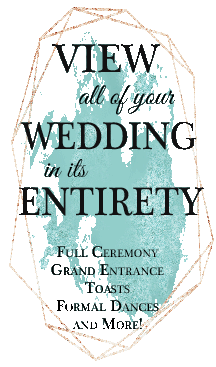 While other companies try to convince you that you won't want to sit down and watch a two to three hour video of your wedding, we know the truth is, YES YOU DO! Of course you want to see all the detail shots of your decor, all the crazy shots of your guests having fun. And NO, a three minute trailer video isn't going to do your wedding justice. Of course we do provide you with our own highlight video as well but it's in ADDITION to the full length video. And we're not talking about un-edited footage from one camera, our full length video is fully-edited (not raw) from multiple camera angles that includes every key moment in its entirety (ceremony, grand entrance, toasts, first dance, parent dances, specialty dances, tosses, etc.). There is no pre-determined length to our full-length video -- it's however long it needs to be in order to capture your whole event. Trust us, the day goes by so fast, you WILL want to see everything that happened!
If you are looking for just a quick, cinematic re-cap of your wedding, that's not what we do. If you are looking for extensive coverage at reasonable prices, then you have come to the right place!
Sacramento brides and grooms -- find out for yourself what a "Real" experience is like...
Wedding videography for Sacramento County, Yolo County, Placer County, Sutter County, El Dorado County, Solano County, Amador County, San Joaquin County, and Nevada County since 2003.